Interested in meal prepping, but have no idea where to start? You've come to the right place!
Learning how to meal prep was a game changer for me. Having prepped meals just waiting for you in your fridge is the best kind of fast food: it's healthy, you know what's in it and it actually tastes good.
Before I learned how to meal prep, I wandered the grocery store aisles aimlessly with no grocery list or plan. I would end up tossing random items into my cart with good intentions, but would ultimately end up throwing items away (completely untouched or unopen) 2 weeks later because they were rotting in my fridge.
Today, I'm a meal prep master! I no longer look like a meanderthal in the grocery store. Instead I enter with a plan (and a grocery list!) so I'm only buying what I needed.
With a little planning, you too can be a meal prep master! Here's how...
Meal prep 101: getting started
So you're super excited to learn how to meal prep, which is great. I love your enthusiasm! But before you charge the grocery store like a scene out of "Braveheart," set yourself up for meal prep success by doing some pre-prep prep.
Do a pantry check
Take some time to see what items you already have in your pantry and refrigerator — and don't forget Your Super mixes! Remember: you only want to buy what you need or don't have. This will help you from spending money on items you already have.
Invest in high-quality meal prep containes
We recommend using glass containers to store your meals. Unlike plastic, which usually contains BPA, glass containers are dish washer, freezer, oven and microwave safe. They also last a really long time.
We also like to reuse mason jars or other glass containers for salads, soups or overnight oatmeal.
Choose your meal prep day
Decide which day you want to dedicate a couple of hours to meal prepping each week. I personally like to meal prep on Saturday mornings after I grocery shop.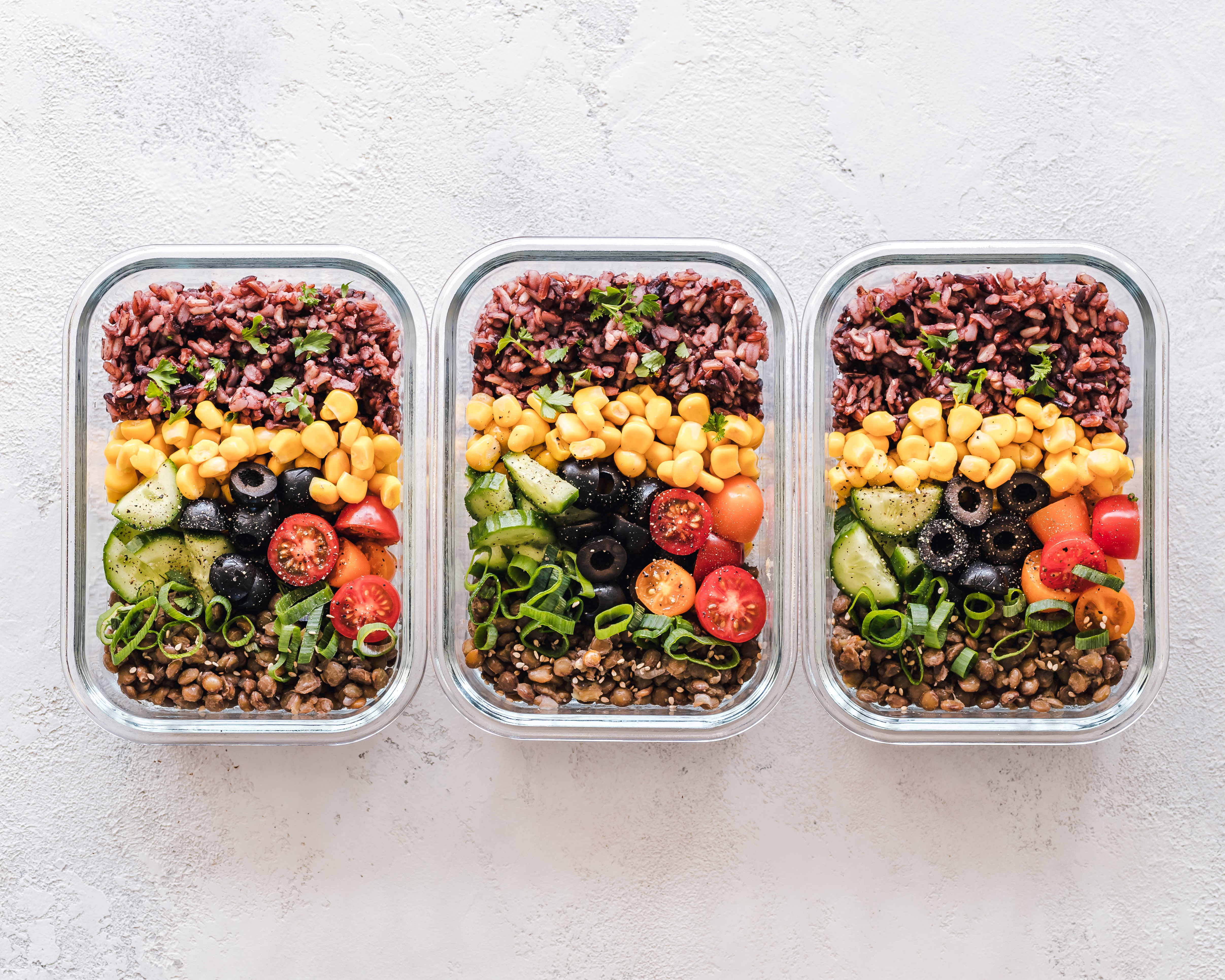 How to meal prep in 3 easy steps


Step 1: write out your meal plan
Set some time aside to select the recipes you want to make for the week. Make sure they're recipes you want to eat and that you're excited to eat. There's nothing worse than looking in your fridge and thinking, "Ugh, I don't want to eat that!"
I like to use this meal plan template to plan out my week.
How many recipe should you make? That depends on how many meals you need for the week. If you only want lunches for the work week, you'll need enough for 5 meals. Going out to lunch one or two days? Then you'll need less.
I personally like to choose 2 or 3 recipes that make 4 servings, that way I'll have 8-12 servings prepared.
Step 2: create your shopping list
Once you know which meals you're cooking for the week, the next step is to create your shopping list.
Over the years, I've developed a shopping list that gets me in and out of the grocery store in about 15 minutes (or less). I've set my shopping list up by aisle or section, that way I'm not constantly walking from back and forth across the store. I've found this really saves time and keeps me from making those impulse purchases.
Curious what my magical shopping list looks like? You can download it here.
Confession: One of my favorite days of the week is Wednesday aka the day grocery stores release what items are on sale. Don't be afraid to make substitutions based on what's on sale and what's in season.
Step 3: prep your meals
Now that you have your groceries, it's time to start cooking!
I like to start by cooking the bulk items, such as quinoa or rice, lentils, potatoes, etc. While they simmer or cook, I'll start to cut, chop, mince and dice my fresh veggies.
When it comes to cooking order, I'll cook the recipe that takes the longest first.
Also, you don't have to wait for one meal to finish cooking to start cooking another one. Multitasking is key! While one meal simmers or cooks, move on to your next recipe.
Another thing I've learned over the years is to clean as you go. Once I'm done with a pot or bowl, I'll quickly wash it or rinse it out and put it in the dishwasher. This not only frees up sink and counter space, but it makes clean-up a lot quicker.
Once your meals are prepped, divide them equally amongst your meal prep containers and put them in the fridge. When you're ready to eat, all you have to do is grab and go!
Meal prep recipe ideas
Need some meal prep recipe inspiration? Here are some of our favorite recipes that will help you meal prep.
You can also find more healthy recipes here.